This gorgeous, anti-inflammatory Moroccan Chickpea Couscous Skillet is a healthy vegetarian meal that's freezer-friendly! This gorgeous, anti-inflammatory Moroccan Chickpea Couscous is a healthy vegetarian meal that's freezer-friendly!
Freezer Friendly and Oh So Good!
This healthy vegetarian meal is packed with anti-inflammatory ingredients like:
Cauliflower
Turmeric
Garlic
Couscous
Garbanzo beans
Vegetable broth
And comes together to make the most flavorful and delicious vegetarian meal (basically the vegetarian meal of my dreams). And did I mention it is also super freezer friendly?!
Homemade Moroccan Spice Blend
---
First things first, our homemade Moroccan spice blend is a MUST for this recipe. But have no fear, you likely have these 7 spices in your kitchen already:
Cumin
Turmeric
Ginger powder
Garlic powder
Chili powder
Cayenne
Salt
How much does a batch of this spice blend yield? If you make one batch of this spice blend , you will get around \~ 3 tablespoons of spice.
This Moroccan chickpea couscous recipe here calls for 2 tablespoons, so you'll have a little extra to keep on hand and use with one of our other delish Moroccan-inspired recipes below!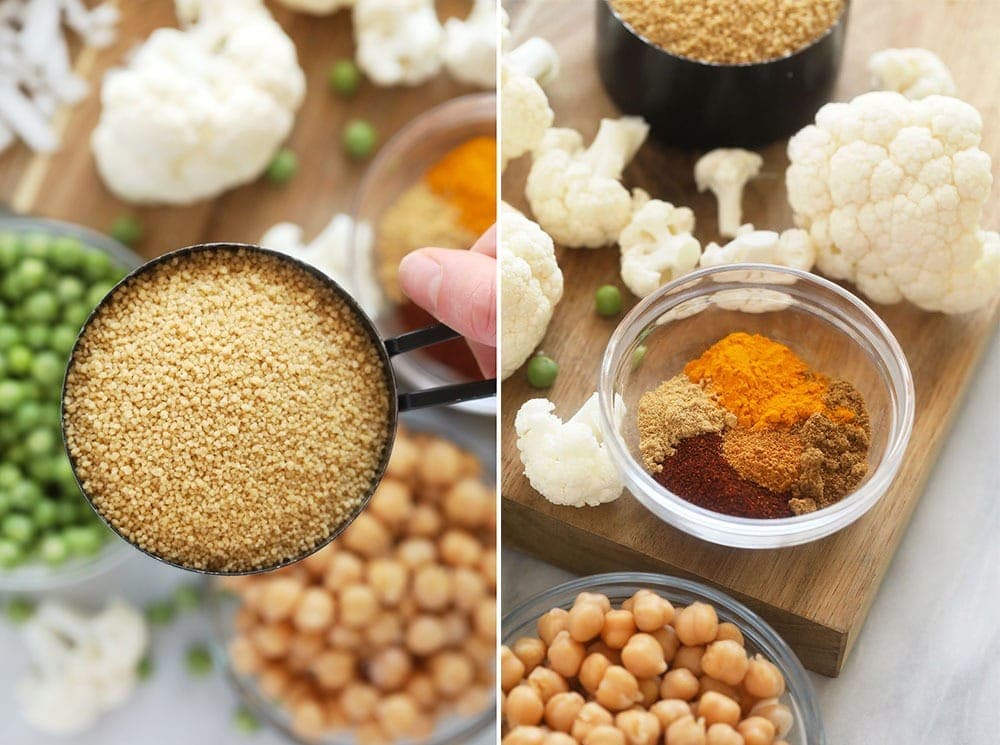 This gorgeous, anti-inflammatory Moroccan Chickpea Couscous is a healthy vegetarian meal that's freezer-friendly!
How to Make Moroccan Chickpea Couscous
This vegetarian skillet is not finicky AT ALL to make despite the longer ingredient list of nutrient-packed veggies. We'll walk you through each step:
Sauté Veggies
Heat olive oil over medium/high heat in a large nonstick skillet. We used a 16-inch skillet, but any larger size will work as long as it's deep enough to hold all the ingredients + broth.
When the olive oil is fragrant, add in the onion and garlic, and sauté for 2-3 minutes.
Finally, add in the cauliflower, peas, garbanzo beans, and moroccan seasoning to the skillet and sauté for an additional 5-7 minutes, stirring consistently. Keep the stove-top heat at medium/high this entire time.
Add in Couscous and Broth
Next, add couscous into the skillet, and mix well. Once the couscous is mixed in, pour broth into the skillet and bring it to a boil.
Let it All Cook!
Once boiling, remove the entire skillet from heat. The, immediately cover your skillet, and let sit covered for 5 minutes (or until all the broth is absorbed by the couscous). This will give the couscous enough time to cook, and will ensure the rest of the veggies are steamed to perfection as well.
Uncover and Fluff
Uncover the skillet and fluff the couscous with a fork. This will also help to mix all the ingredients together.
Don't Forget the Optional Toppings
These optional toppings add a flavor punch to this vegetarian dish! Pro tip: add these toppings right before you serve the dish. If you're meal prepping for later, keep the toppings separate and add them on at mealtime.
Crumbled feta: crumbled feta adds a tangy cheese flavor that enhances the Moroccan spices in this dish. Dairy-free? Any crumbled vegan cheese will do the trick.
Chopped mint: fresh mint is one of our go-tos to add a little punch of flavor to accompany Moroccan dishes like this. Look for fresh mint in the produce section of your grocery store, and keep it in a glass of water on your countertop to help it last a little longer. Simply pluck a few leaves off the stems and chop to your desired garnish size.
Diced cherry tomatoes: looking for a fresh veggie flavor to sprinkle over this dish? Diced cherry tomatoes are it!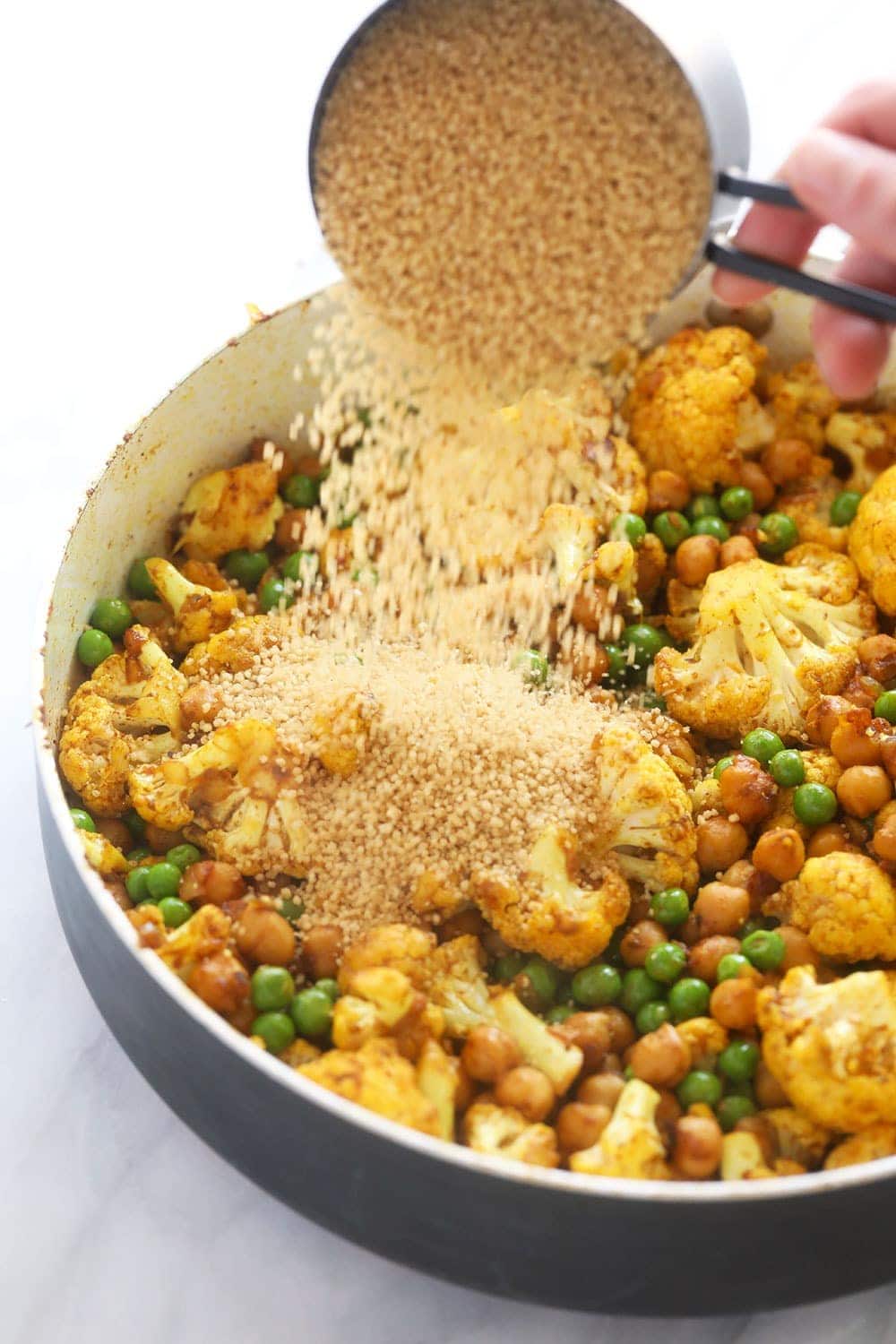 This gorgeous, anti-inflammatory Moroccan Chickpea Couscous is a healthy vegetarian meal that's freezer-friendly!
How to Freeze this Recipe
This Moroccan chickpea couscous is a great meal to freeze and have on hand for a quick and nutritious meal, or to give to a loved one for their own freezer.
Freezer Ingredients
1/2 large white onion, diced
4 cloves garlic, minced
4 cups fresh cauliflower, chopped
2 tablespoons Moroccan spice mix
1/4 teaspoon salt
1-15 oz. can garbanzo beans, drained and rinsed
1 cup fresh English peas
1 cup uncooked couscous
Freezer Directions
Place onion, garlic, cauliflower, Moroccan spices, salt, garbanzo beans, and peas into a freezer-safe gallon-size bag or container.

Then, place couscous into a separate small bag (plastic or reusable) and seal the bag. Place the couscous bag inside of the gallon-sized bag with the rest of the ingredients. You will cook the couscous separately when you are ready to prepare the skillet.

Remove as much air as possible from the gallon size bag and seal.

Label and date the bag and place in the freezer for up to three months.
To Cook (From Frozen on the Stovetop)
Ingredients to add Before Cooking
3 tablespoons olive oil
1.5 cups vegetable broth (or any kind of broth)
Cooking Instructions
First, heat a large skillet over medium/high heat and add olive oil.
When olive oil is fragrant, turn heat to medium and pour the frozen cauliflower mixture into the skillet and cook for 10-15 minutes. Stirring every couple of minutes.
When the cauliflower is fully cooked and not frozen, add broth to the skillet and turn the heat up to high heat.
Bring broth to a boil and then add couscous. Remove from heat, stir, and cover.
Let the couscous sit for 5 minutes. Then, uncover and fluff with a fork.
Add optional toppings and enjoy!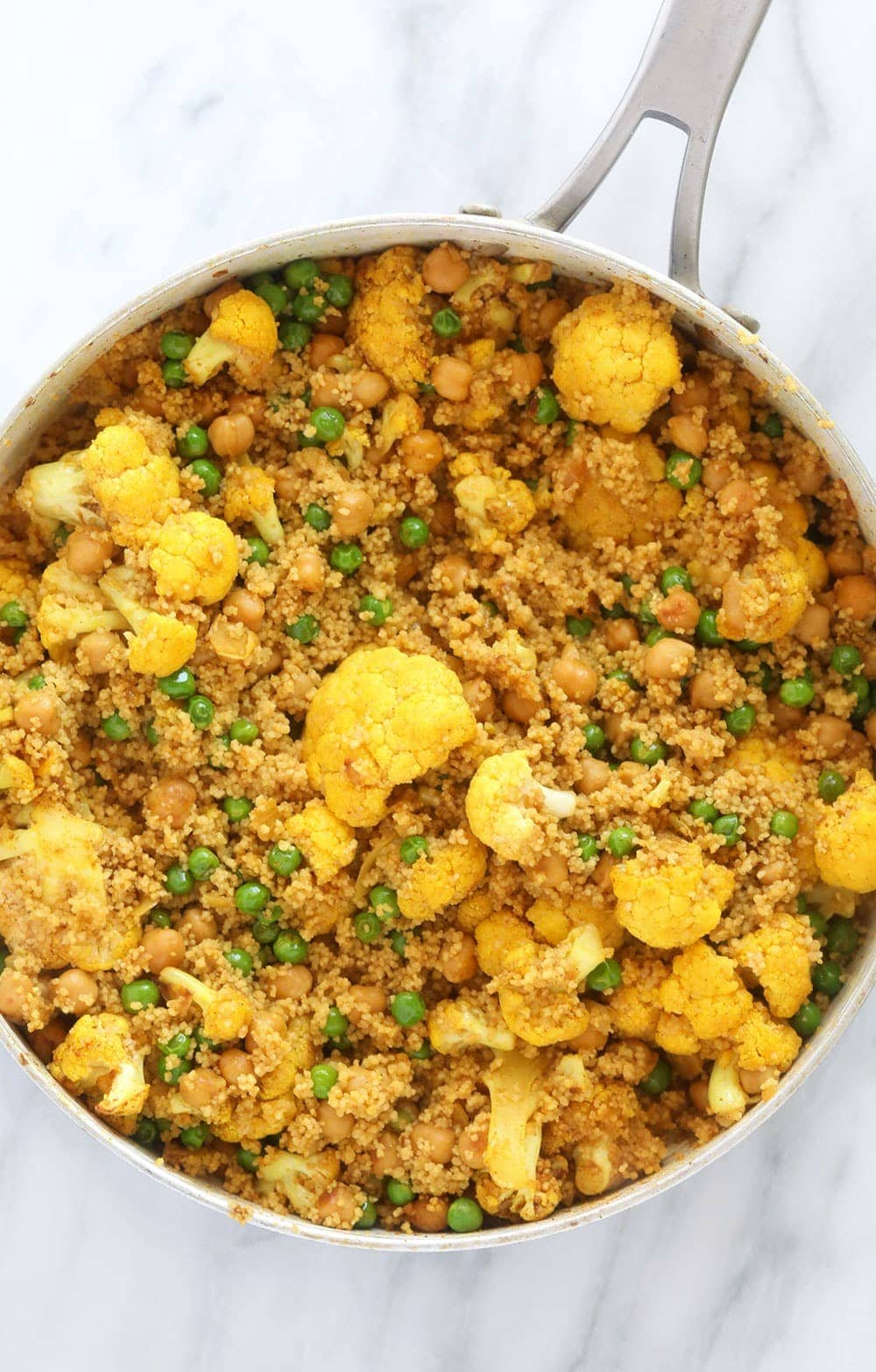 This gorgeous, anti-inflammatory Moroccan Chickpea Couscous is a healthy vegetarian meal that's freezer-friendly!
More Moroccan-Inspired Recipes
Watch How to Make this Recipe
Watch cooking videos and learn how to cook. Watch funny mukbangs and ASMR food clips. Talk to the creators of best live shows online. Explore food posts from people around the world. Learn useful life hacks, rate and leave comments. Follow your favorite creators not to miss new posts and updates.